Description
Orchard Arbour – available in 6 colours
New for next season the "Orchard Arbour" manufactured in Lincolnshire by AFK Garden, a UK company that is constantly investing in robotic technologies to improve their product design, production efficiency and quality control – endeavouring to be placed first in the garden arbour market place, whilst keeping the price fair!
Comfortable Arm Rest
Handcrafted in Britain
Contoured seat for extra comfort
Added middle spine for strength and slat stability
Sustainable FSC certified Timber
Touch up paint included
Delivery 7 to 14 Days
Quality knotting undercoat with durable top coat finish
Size:
H: 1.96m (77″)
W: 1.36m (54″)
D: 0.81m (32″)
Available colours:
Heritage Sage and Cream
Charcoal and Cream
Charcoal and Stone
Lavender and Cream
Lavender and Stone
Beech
Tried and Tested Coatings
AFK Garden products are finished with a high quality two-product finishing system designed specifically for the substrates used in their manufacture. The softwood timber is given enhanced protection against sunlight, knot discolouration and moisture ingress through a primer/topcoat combination developed at Sherwin-Williams exterior R&D laboratories in Italy and Sweden. These water based coatings are low environmental impact products, therefore solvent emissions are reduced by 95% compared to solvent based systems.
Using the latest robotic spray application AFK ensure that these high performing products are applied to controlled production specifications, ensuring consistent, repeatable product quality everytime.
With coatings for wood from Sherwin-Williams global wood finishing range, AFK's product portfolio benefits from long lasting and weather resistant coatings that are trusted by manufacturers and developers worldwide.
Touch Up Paint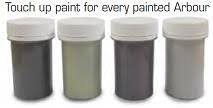 Responsible Sourcing
AFK's full range of products are manufactured using our FSC® certified timber ensuring our material is from responsible and properly managed sources.
FSC® is dedicated to the promotion of responsible forest management worldwide. To learn more, visit www.fsc.org
Carbon Footprint
AFK continue to offset our carbon footprint as all waste timber is turned into wood pellets for use as biofuel and all wood shavings are used as animal bedding.
High Quality Hand Crafted Products
Combined traditional construction methods with state of the art machinery, our FSC® certified timber comes from slow grown Scandinavian Redwood, felled within the Arctic circle. With traditional mortise and tenon joints that are also glued and pinned together giving superb strength and a consistent build quality.
Great Design
Improved seat slat end moulding greatly enhances look and finish of seat. A middle support spine strengthens and stabilises the roof. Robust end cardboard packaging reduces damage in transit.
Arbour Roof detail
The natural beauty of wood and caring for it
At AFK we source our slow grown FSC® certified Scandinavian Redwood timber from Sweden, a region famed for its timber production. This cold northern region ensures the trees grow slowly giving strength and density to the wood and in turn making the wood less prone to splitting with knots remaining tighter.
We take a great deal of effort to ensure our wooden arbours and planters get to you in great condition.
Wood is a natural material and is affected by conditions it is exposed to. Sometimes during the hot summer months splits or cracks may appear. These are not defects but just the wood altering to match the moisture and temperature of its surroundings and as wetter times come will naturally fill in.
Knots are natural growth imperfections that gives wood its unique character.
Knot discolouration is a yellowish stain that may appear on the surface of the paint. This is the result of sap from the wood bleeding, and their natural resins staining the top coat of paint.
This can happen through hot periods. To overcome this, we use a good quality wood primer with a high content of knotting inhibitor to slow this natural process down. If it does occur sand the effected area back to bare wood and apply a good quality stain blocking primer before repainting.
Assembly Video:
 Download A Copy Of The Assembly Instructions

Please note delivery of these arbours is roughly 7 to 14 Days
Available Accessories:-
ARBOUR/SWING SEAT ANCHORING KIT
Manufactured from heavy duty black powder coated steel the anchoring kit ensures total stability in windy or stormy weather. Also with garden thefts on the increase, it means your garden furniture is more likely to remain where you put it.
The substantial base plate can be secured to lawns with the 250mm (10") long pegs supplied or can be bolted to any concrete, brick or wood surface using appropriate fixers.
Kit contains:
4 x Anchoring base plates and 8 x 250mm (10") long pegs
Price  to be announced
Please Note: Planters and any other accessories are not included.